SILK PAINTING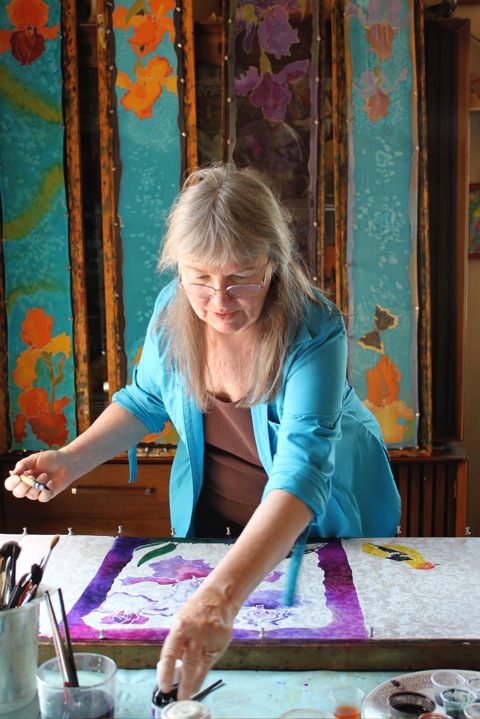 The technique of painting on silk utilizes special dyes on white silk to create colorful imagery. I started painting on silk in 1982 after doing Batik for many years. I have painted just about everything that could be silk painted, creating elegant silk clothing, coats, jackets, vests, scarves, even men's ties, shirts, and vests for a time. I created a myriad of silk banners and wall hangings, prayer flags and shawls and elegant quilts, I have been called the Queen of Gutta, because I love to draw, and nearly always use the rubbery resist to draw out my detailed designs, words and images.

I have enjoyed doing a long series of wedding banners for my children, nieces, nephews, friends and children of friends through the years that have been carried on bamboo poles through the sand dunes and hung from trees in the forest. People have worn and wrapped themselves in the silks for comfort during difficult times, and have hung them on their walls to create beauty or change the energy in their homes or even in hotel rooms when traveling. They have created portable sacred space all over the world.

I have drawn and painted "all my relations" in the Natural world, most of the large animals of the world, dolphins and whales and other sea creatures, many species of the "standing people", the trees, and many of the small creatures, butterflys, insects and an abundance of beautiful flowers. I am currently focused on the Winged Ones, the birds I see out my windows, and the endangered species that I travel far to see. I am specializing in the two North American cranes, the Sandhill Cranes and the Whooping Cranes.

I have truly mastered the art of Silk Painting after all these years, and I still enjoy doing this process! I like making useful, elegant, personalized, wearable ART, each piece lovingly created by a human being! I love the way the colors blend and glow, the surprises of the salt, the luminosity of the finished products. The silks have truly been a delight to produce, wear, and surround myself with throughout the years.

Care Information