CARE
Here is some information on the creation and care of your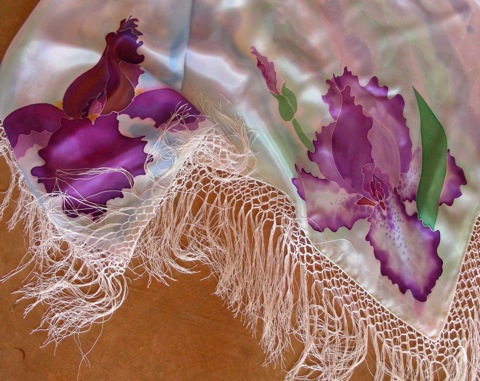 HAND-PAINTED SILK SCARF
.
Each scarf was individually hand painted
.
This is not a reproductive process

.

It originally was a white silk scarf.
First, it was stretched out, to create a taunt surface to work upon
Using metal pushpins on a wooden stretcher frame.
The white outlines of the images were drawn in with clear gutta,
A sticky substance used to create a dam for the dye,
By squeezing it from a squeeze bottle with a tiny metal tip on it.
After the gutta dried, the colored silk dyes were carefully
painted on in many different stages, using water-color brushes.
When completed, after air drying for a day,
It was steamed for 4 hours to set the dyes and make them permanent.
It was then dry cleaned to remove the gutta, washed, hung to dry, and ironed.

To remove wrinkles in your silk,
Iron while damp, using a steam-iron
Or spray it with a plant mist-er to dampen,
And then iron with a fairly hot iron, on a cotton setting,
Actually pushing on the damp silk to get the wrinkles out.
If it ever needs cleaned you can have it dry-cleaned
or hand-wash it with a bit of dish-washing liquid in warm water.
Swish it gently and quickly in the water, rinse well, and hang to dry.
A small bit of dye may color the water when you wash it, that is normal.

Enjoy wearing your scarf around your neck, your hat, your waist, tied to a belt loop, or hung on the wall between wearings. It is beautiful draped over a lampshade or in a window with the light coming through it.
To hang the silk scarf or banner on the wall or in a north window,
I use push-pins in the top corners;
Enjoy!
Judith Roderick
I enjoy doing special orders, They may take up to a month to complete